LATEST TOURIST DESTINATION
Domestic Tourist Recommendation
Tuesday, November 10th 2020
1. Nusa Lembongan & Nusa Penida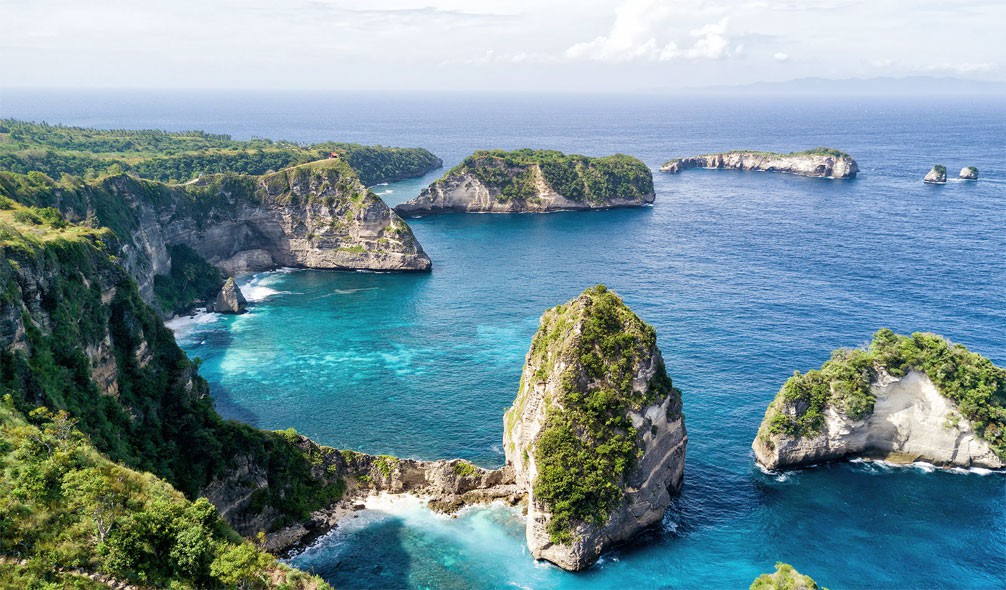 Nusa Lembongan and Nusa Penida offers an island getaway from Bali's island getaway. It sits just off the southeastern shore of the main island and is known for providing a more serene experience for those looking to get away from the hustle and bustle of Bali's top touristy areas.The most common way to reach the island is by a boat ride from Sanur.They are not as crowded or as developed, and it has a peaceful atmosphere. You can explore the island and its mangrove forests and traditional villages on foot or by renting a bicycle. There are numerous beaches situated along its coasts where you can go swimming, surfing, kayaking, diving, snorkeling, paddleboarding, and more.
2. Cemongkak Beach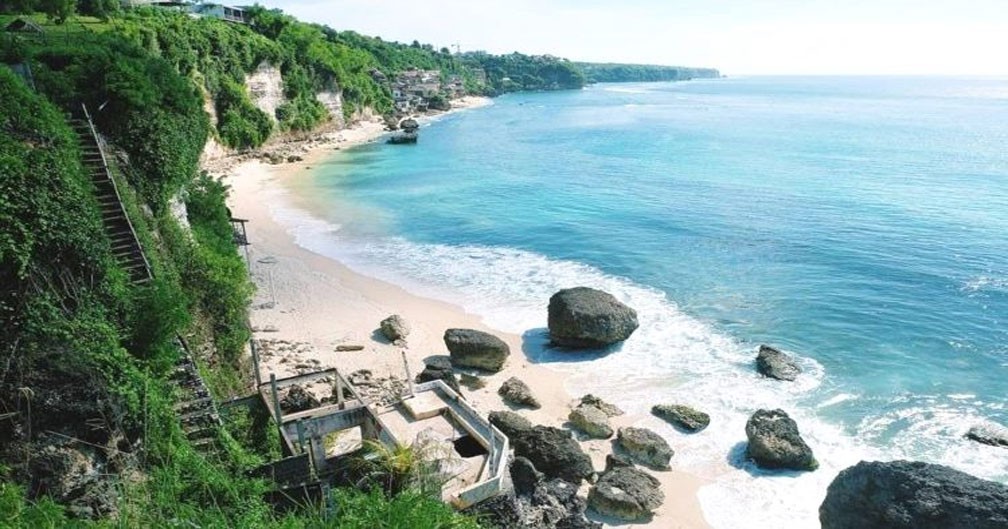 Cemongkak Beach, A Hidden Paradise Near Dreamland Bali One place that is still rarely visited is Cemongkak Beach in Pecatu. The exact position is in the Pecatu Village Area, South Kuta District, Badung Regency. Because the location is between Bingin and Dreamland Beaches, the scenery here is very charming. Besides that, it is also not so far from contemporary hangout spots in Bali such as El Kabron. Although it is close to Dreamland which is crowded with tourists, Cemongkak Beach is rarely heard of. Even though this tourist destination in Bali has extraordinary beauty. Once here you will feel at home. Moreover, the conditions are still quiet, feels like a private beach. So once you are here you will feel a different atmosphere.
3. Kelingking Beach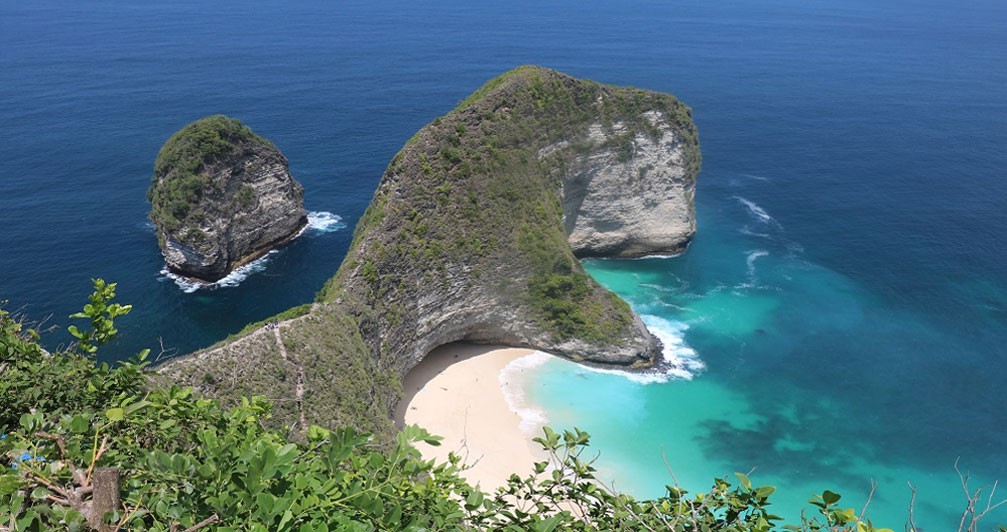 Kelingking means pinkie finger in Indonesian. The local probably named it Kelingking as the tip end of the cliff taper narrowly like the pinkie finger. The shape of the area also represent a Tyrannosaurus from above. Which is very unique and beautiful at the same time. You can take beautiful shots from the top of the Cliff since the view is very instagramable. The most typical background for the shot is the T-Rex head part of Kelingking.
4. Mrs Sippy Bali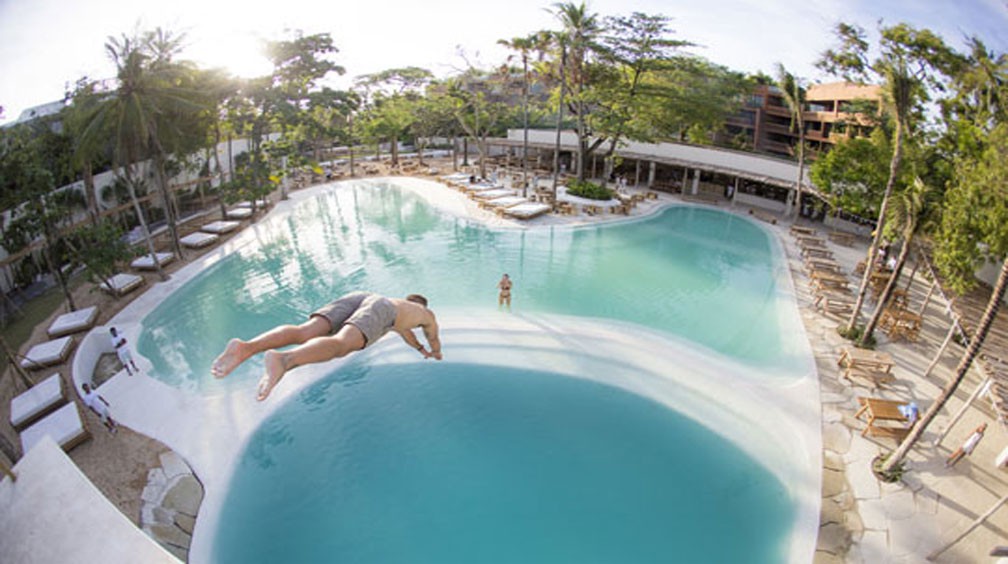 Feel the thrill of jumping from a height of 5 meters into a saltwater pool at Mrs Sippy Seminyak! Yoi, here you can try to pump your adrenaline and hangout while enjoying the sunset. A daybed is also provided for you to relax while enjoying the western food menu. Pool Shot of Mrs Sippy with Instagram Influencers Fun fact, it turns out that this pool club comes from Sydney. Due to the large number of Australian tourists visiting Bali, a branch was finally opened.
5. Atuh Beach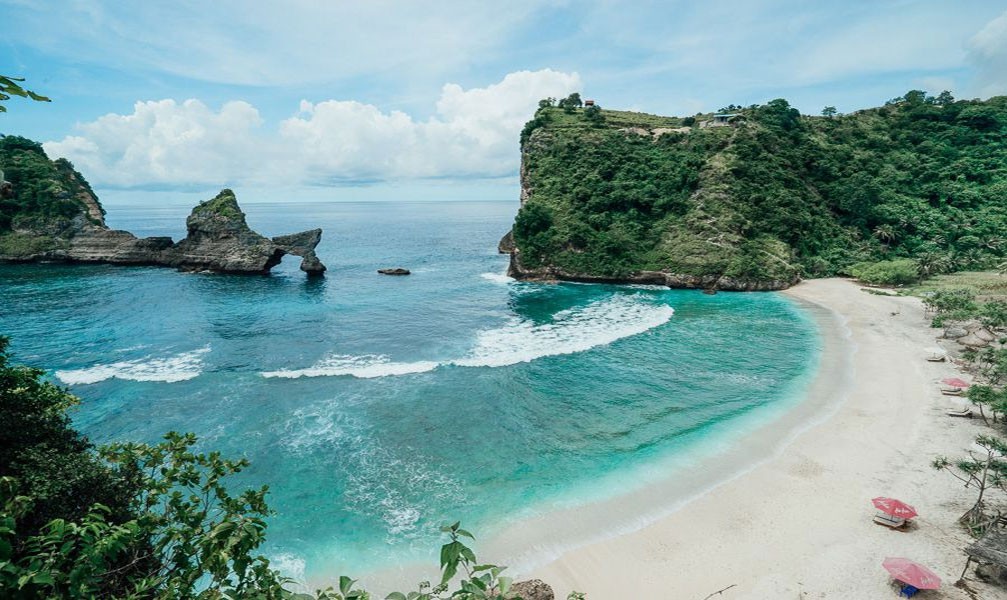 This hidden beach in Nusa Penida presents a natural charm that is so amazing with the existence of coral cliffs around it. In addition, the natural scenery on this beach looks even more attractive with a coral hill that resembles a shoe in the middle of the beach. While swimming on the beach, you can do photo hunting with a coral hill as the background. Location: Banjar Pelilit, Pisianutan Village, Nusa Penida District, Klungkung Regency, Bali.
6. Old Man's Canggu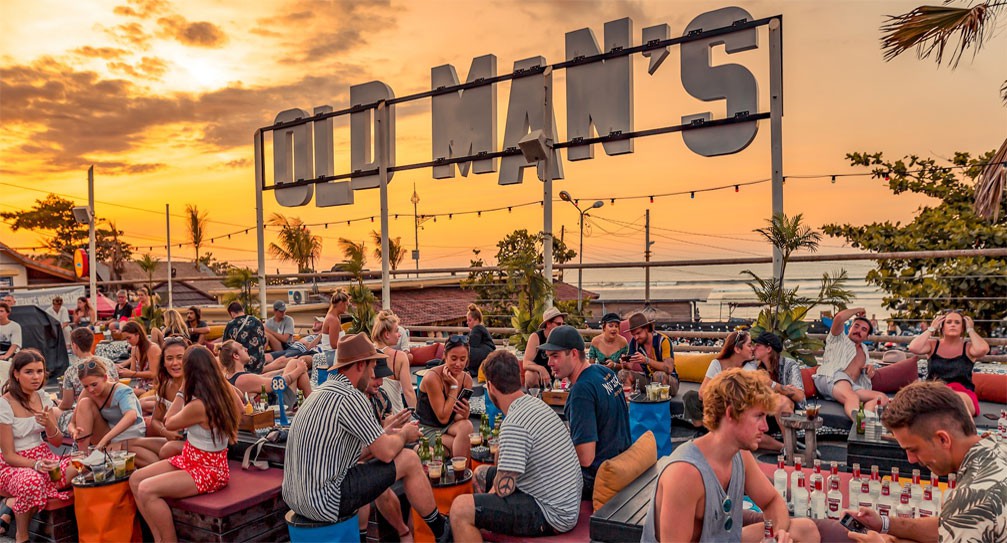 This is the perfect location to relax after a long day of surfing or playing on the beach. You could say, Old Man's is a hot spot that is very popular among surfers and young people alike. The atmosphere is so nice and warm, that whatever time you come it is almost always crowded. Located right on the edge of Batu Bolong Beach, Canggu, Old Man's is more than just a place to hang out while enjoying affordable drinks and Western food. But also a place to wash your eyes while watching the surfers in action. Especially if you want to watch the sunset, then this is a very strategic spot.The night's Old Man's atmosphere will be even more festive with live music performances by local bands starting at 18.30. On the weekends, the atmosphere will get 'hotter' with the presence of a DJ delivering fun and rhythmic music.
7. D'Tukad River Club, Tegenungan Waterfall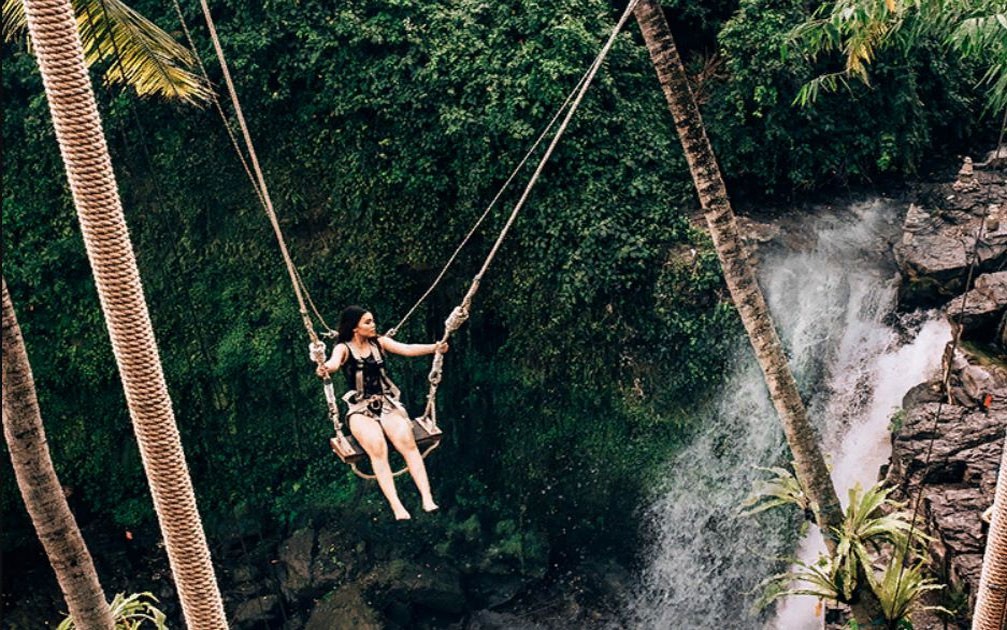 Bali is known for its cool beachside clubs, but did you know that there is now a 'jungle club' that offers a completely different atmosphere?. D'Tukad River Club is a new hangout place that carries the concept of a tree house and is located right above Tegenungan Waterfall. You just need to climb a few steps to enjoy the splendor of the waterfall from up here! Generally, visitors who come to spend their time in the multi-storey swimming pool here while enjoying the cocktails and various snacks provided. Apart from that, you can also relax on the unique bamboo terrace area or play on the swing while taking photos!
8. Kim Soo Home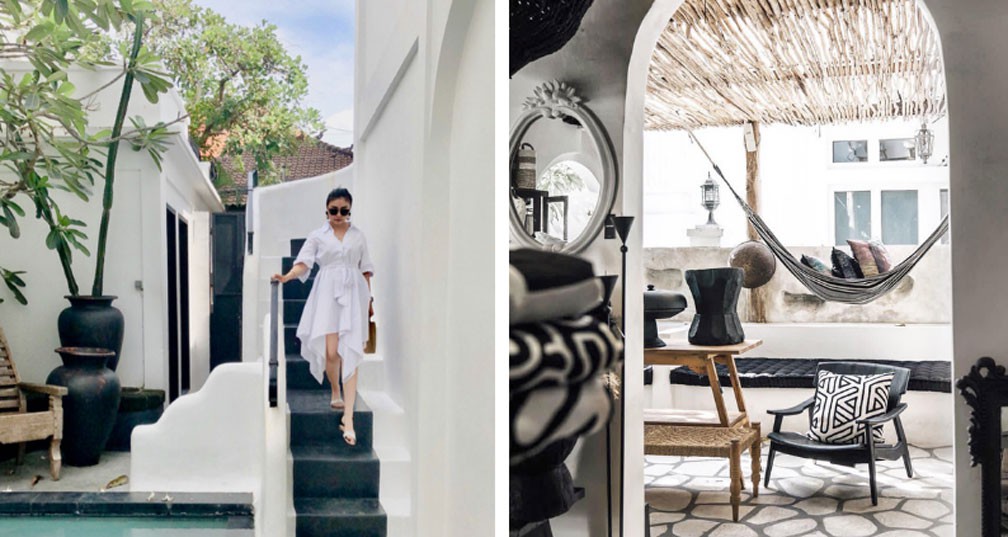 This cafe is the perfect fit for those of you who like simple but elegant. The monochromatic interior design and Mediterranean-style architecture will entice you to take literally hundreds of photos to post on Instagram. Located in the crowded area of Seminyak, KIM SOO HOME is the perfect place to hang out as well as shop for unique and contemporary home decoration knick-knacks.
9. Tegukopi Kintamani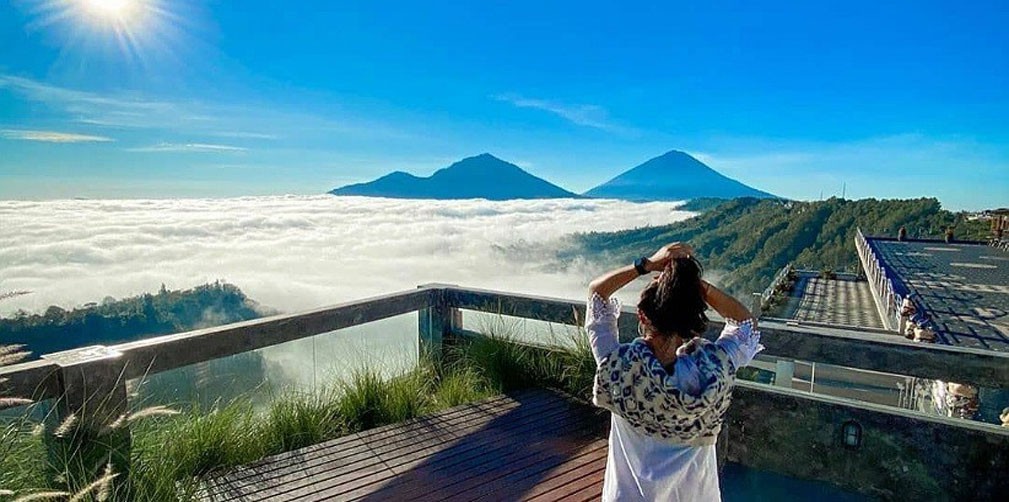 One of coffee shop that can find in Kintamani, this coffee shop offerred a beatiful scenery of Mount Batur, Mount Abang and Batur Lake that make this place very instagramable. If you come there around 7-8 AM in the morning, you can feel like you are in fairyland with full of clouds. It offer indoor and outdoor area and vary of menus with acceptable price. The signature of the coffee that you must try there is a unique coffee with mixture of orange flavour.
10. Kebun Raya Bedugul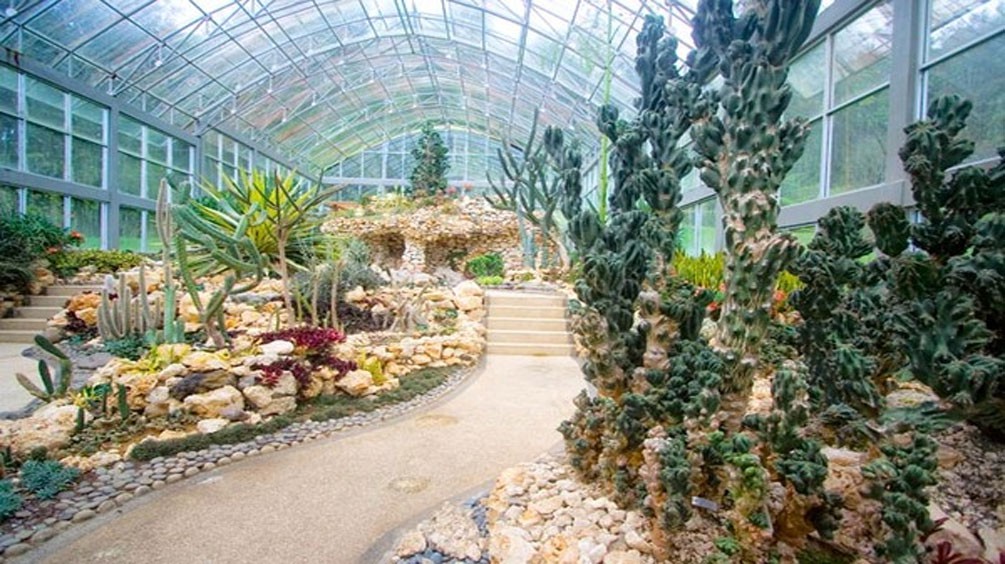 The Bedugul Botanical Garden, which has a land area of hundreds of hectares, has 2,500 types of plants, both general and thematic collections. Even a number of rare plants such as the ghost orchid and majegau tree are rare collections from the Bedugul Botanical Garden. A diverse collection of plants mostly from eastern Indonesia.